PROXE 70
Our new line of catering equipment can be described in just one word, EASY.

The Proxe 70 line is designed to optimize space and ensure high performance for your kitchen.
Easy to choose
the Proxe 70 line of professional kitchens has a wide modularity ranging from 40 to 160cm in width by 70cm in depth.
Easy to install
Proxe70 Electrical equipment is easy to connect. Just plug it in and start cooking
Features
The hobs have the power of large-size models. 5 kW and 7.5 kW burners. The hob is moulded from

a single piece of AISI 304 stainless steel with Scotch Brite finish, with ample rounded corners and

large capacity to collect overflowing liquids. Enamelled cast iron pan stands ensuring that they will




last over time.

The tank has fully radial corners. The pasta cookers are fitted with a water inlet tap.

The electrical models are equipped with heating elements that pull out completely to allow for easy cleaning. The fryers have moulded tanks with a sloped bottom to help drain oil.

The fry tops have a protective edge againstsplashes and a removable deep fat tray.

Rear technical compartment for passage of machine feed pipes.

The appliances can be easily put together to build a unit, that is compact, without any gaps thanks to a covering profile that guarantees protection against leaks and therefore excellent hygiene.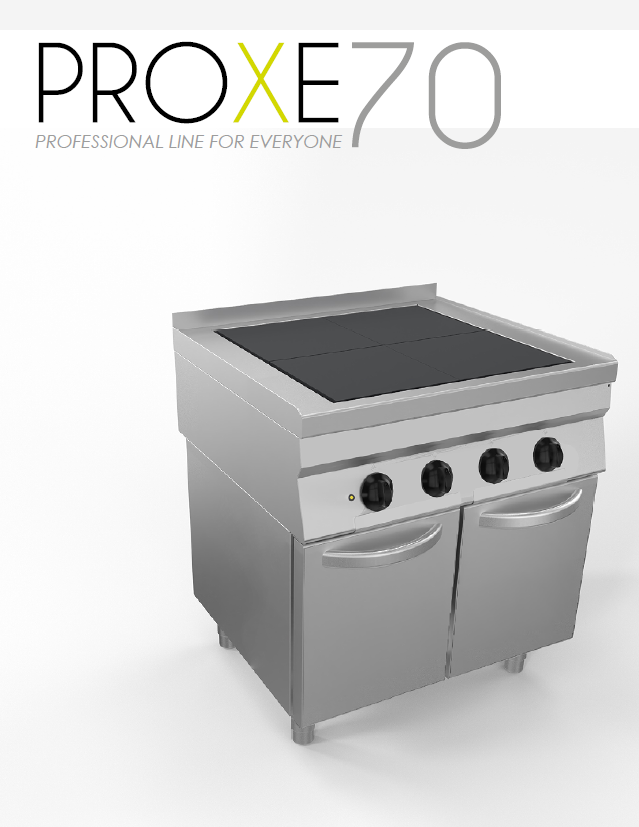 For consulation, plese click here to contact us.